The Dodge Family Association
---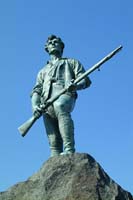 Dodges Who Gave the Ultimate Sacrifice
War of Independence
The American Revolutionary War

Not for fame or reward, not for place or for rank, not lured by ambition or goaded by necessity, but in simple obedience to duty as they understood it. They suffered all, sacrificed all, dared all, and died."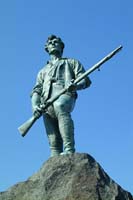 John Dodge of Middle Chinnock, Somerset, England, was the father of William and Richard who came to America in 1629 and 1638, respectively. They settled in what is now, Salem, Massachusetts.
Tristram Dodge came to Block Island, Rhode Island in 1660/61. He came from England, via Newfoundland, via Taunton, Massachusetts. We believe that his ancestors were came from Northern England
---
Lineage - John Dodge, Middle Chinnock, England through Richard
James DODGE, b. 19 Aug 1749, Beverly, Essex Co. Massachusetts
Private, Capt. Asa Lawrence's co., Col. William Prescott's regt.; muster roll dated Aug. 1, 1775; >/br> enlisted April 25, 1775; service, 3 mos. 8 days; also, company return dated Oct. 6, 1775; reported taken prisoner or killed in battle June 17, 1775. Also reported as killed at the Battle of Bunker Hill (actually, Breed's Hill) on 17 Jun 1775
James left a wife (name unknown) and a baby boy, John, who was almost 1 yr. old. Son of Jonathan Dodge and Lois Dodge
Lineage - John Dodge, Middle Chinnock, England through Richard
James Dodge; b. 18 May 1761, Woodstock, Windham Co., Connecticut and d. 21 Sep 1778
James was the son of Ebenezer Dodge and Eunice Marcy.
Lineage - John Dodge, Middle Chinnock, England through Richard
Jonathan Dodge, 16 Oct 1743 - 9 Feb 1822., was a Massachusetts Minute Man during the Revolutionary War.
He is buried in the cemetery at Hamilton, Mass.
We have a picture of his cemetery stone