Nathan Dane Dodge and his five sons. Photo taken in 1868
Seated from the left:
John Livermore Dodge-age 37, b. 1831, d 1891
Nathan Dane Dodge Sr.-age 60, b. 1808 d. 1890
Moses Dodge-age 34, b. 1834
Nathan Dane Dodge Jr.-age 28, b. 1840
Standing in the back from the left:
Elisha Perkins Dodge-age 21, b. 1847, d. 1902
William Henry Perley Dodge-age 23, b. 1845, d. 1878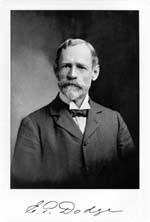 Elisha Perkins Dodge. There were three men with this name. The first was b. Oct. 5, 1847 and died in 1902 and this is the Elisha that we believe is portrayed in this photo. He had a son, Laurence, who in turn, had a son, Elisha Perkins and THAT son also had a son named Elisha Perkins.
The Elisha in the portrait was a son of Nathan Dane Dodge and Sarah Shepard. He was a manufacturer of Ladies Shoes in Ipswich, Massachusetts. He was married to Katherine 'Kate' Searls Gray Sept. 16, 1869 and they had two other sons besides Laurence Paine. They were Robert Gray and Edwin Sherrill.
Items associated with Elisha Perkins Dodge.