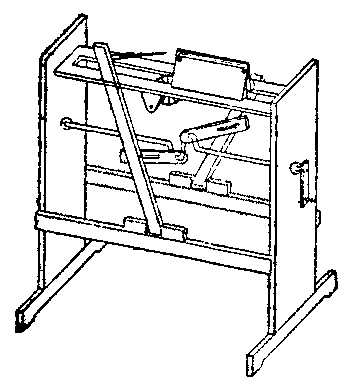 As a youth, Rev. John Adams Dodge (Rev. Jordan, John, John, Israel, Tristram) learned to make steelyards and cut nails. In 1817, he bought the cutnail works at Ferrisburg, Vermont. He made the nails that were used to shingle the old statehouse in Albany, New York.
After the invention of machinery that superceded hand-work in nailing, he manufactured hames for for horse collars, and made many inventions useful in the prosecution of that business.
For want of a house in Ferrisburg, he moved just over the line to Monkton, Vermont, and it was there that he invented the first sewing machine in 1818. The sketch above, was made from the inventor's description of it, and no more is shown than is essential to convey the idea from Rev. Dodge's memory 50 years later.
Rev. Dodge made no effort to introduce it to the public for several reasons, not the least being that as a pastor who was in charge of two and sometimes three Baptist churches, he felt he could not take time from his flock.
This invention is also listed in the PROCEEDINGS OF THE VERMONT HISTORICAL SOCIETY, Vol. 8, pg. 369-1940.
Information and sketch is taken from Tristram Genealogy by Theron Royal Woodward, 1904.