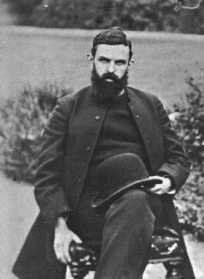 ANSON GREEN PHELPS DODGE Jr.
The Civil War was finally over. Norman Dodge, one of the sons of William E. Dodge, [ David L. (6), David (5), David (4), Daniel (3), Richard (2), Richard (1)], decided to build a lumber mill on St. Simon's Island off the coast of Brunswick, Georgia, and bought a plantation that was situated on the Frederica River near Gascoigne Bluff. In time, Anson Sr. went to the island to run the mill.
Anson II decided to visit his father and while there, he spent time wandering the island over and came across the ruins of Christ Church (Episcopal). He was saddened to learn that Union troops had used the sanctuary to slaughter cattle, and had used the pews as firewood. Anson could picture the church rebuilt, its pews filled each Sunday, the sound of hymns floating out through the moss-draped trees.
The church's first pastor had been famed hymnist, Charles Wesley. Wesley had been supported in the work of establishing the church by a Savannah, Georgia church, which was pastored by his brother John Wesley, the founder of Methodism. The Wesley Oak, where Wesley preached to large crowds, still stands not far from the church, and if you stand there and listen, you fancy yourself hearing that great preacher.
Anson fell in love with his first cousin, Ellen, and even though he faced the dismay of some of his his family, he married her in 1880. They went on an around the world honeymoon which would take over three years to complete. They were in India when Ellen ate contaminated fruit and died of Cholera. The grief-stricken Anson had his wife's body embalmed, placed in a metallic coffin, then in an ebony casket, and brought home to St. Simon's Island. She was placed in a lead vault under the altar of the church, and he finished the building as a memorial to her. She was to rest there until the time came for him to join her.
When Ellen died, Anson inherited over $200,000 which he used only for church work and memorial purposes. He had his own fortune also, but he was an unassuming man, and never spent more money on himself or his family than was demanded by necessity.
He was fortunate to fall in love again and his second wife, Anna Gould, gave him a son. How proud he was of that little boy, Anson III. But he was not through having to deal with tragedy in his life. That dear little son that he loved so much was killed at the age of three after being thrown from a carriage when the horse bolted. Could the loss of his son have had something to do with Anson's death at only 39 years of age?
In his son's memory, Anson began and financed a home for boys.
He also started the first Episcopal Cathedral in India, and the Georgia Mission Society.
In spite of his many personal tragedies, Anson Dodge persevered in the ministry he felt called to by God. He lived simply and used his vast fortune to improve the lot of the less fortunate and to reach people around the world with the Gospel.
The selfless life of this Dodge who was born to luxury points up a trait which is characteristic of many Dodges and that is a desire to serve God and their fellow man .
An historical novel based on Anson Dodge's life and written by famed author Eugenia Price, is entitled "Beloved Invader". The book is the third one in a trilogy about St. Simon's Island. The book entitled The Lighthouse, is the story of James Gould, ancestor of Anna Gould, and the light house that he was instrumental in building, and New Moon Rising is a sequel about the Gould family.
A trip to St. Simon's Island is an event we would recommend to all Dodges.