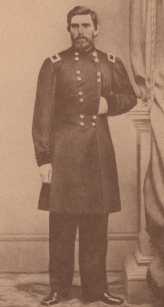 GRENVILLE MELLON DODGE, [ Sylvanus (8), Solomon (7), Phineas (6), John (5), Phineas (4), John (3), John (2), Richard (1)], was born in Putnamville, Danvers, Massachusetts on April 12, 1831 and died in Council Bluffs, Iowa, January 16, 1916. He was married May 29, 1854 at Salem, Massachusetts, to Annie Brown, Peru, Illinois, born May 23, 1822. Their children were Lettie, Ella, and Annie.
He was a famous Civil War General, and was wounded in the head in battle on August 19, 1864 in the front near Atlanta, Georgia. He was cited for this act plus numerous other instances of bravery and gallantry. At the celebrated battle of Pea Ridge, from March 6th to 8th, 1862, three horses were killed and a fourth wounded under him, and he was also seriously wounded.
Fort Dodge, Kansas was established by General Dodge in 1864 after the site was selected by Colonel Ford of the Second Colorado Cavalry according to the U.S. War Department. The Fort was about 4 miles southeast of a location later to be known as Dodge City, Kansas on the Arkansas River. It protected settlers who came from the railroad and was the center of the Indian War until 1882. In 1889 it became the Kansas State Soldier's Home and it remains the same today.
The Union Pacific chose General Dodge in 1866 as chief engineer to build a transcontinental railroad. He disappointed Colorado pioneers Senator John Evans, territorial Governor William Gilpin, and Golden city founder William Loveland by accepting suggestions from scout Jim Bridger and choosing a northerly route through southern Wyoming called the Cheyenne Pass. The railroad reached Promontory, Utah, on May 10, 1869, thus completing the first transcontinental railroad route across the United States Territories.
From "Dodges of Essex County, 1629-1898", by Joseph Thompson Dodge